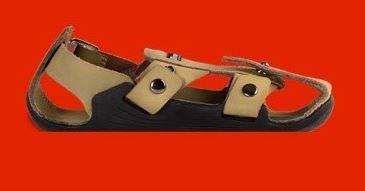 The Shoe That Grows
HAPPY FEET is the name of the Disney cartoon movie about penguins - but - we have a new meaning for HAPPY FEET .... "The Shoe That Grows" ... shoes for the feet of the many children in Kenya and Haiti that have no shoes or are wearing ones that don't fit.
Kenton Lee, a native of Nampa, Idaho, who for 6 months lived and worked at a small orphanage with about 140 children of different ages whose parents had died from HIV/Aids witnessed this firsthand. While walking to church one day he looked down at a little girl in a white dress and noticed her feet. "I was blown away by how small her shoes were. She had to cut open the front to let her toes stick out." After noticing many other children wearing shoes that didn't fit, Kenton asked himself, "Wouldn't it be great if there were a shoe that could adjust and expand so that kids always had a pair of shoes that fit?" But none existed.
In 2009, Kenton and three of his friends formed a non-profit organization, Because International. They immediately began building a prototype shoe which expands in the front, back and sides, a cross between a sandal and a running shoe. The name? "The Shoe That Grows."
In the summer of 2012, Kenton and his new wife Nikki, took 100 pairs of the prototype shoes back to Kenya and put them in four different schools around the country. Positive feedback from children and parents encouraged them to produce the shoe in two sizes and three colors.
Thanks to Kenton Lee who "just wanted to make a pair of shoes for those kids at the orphanage" there are now hundreds and soon to be thousands of HAPPY FEET - The Shoe That Grows - in different countries.
The Sun City Women's Ministries Council has chosen "The Shoe That Grows" for our missionary project for 2016. To make a contribution to this worthy project please make your check out to Sun City Church of the Nazarene and mark it for "The Shoe That Grows." Send it to the church at 14636 N. Del Webb Blvd., Sun City, AZ 85351, or place it in the offering during one of the regular church services.